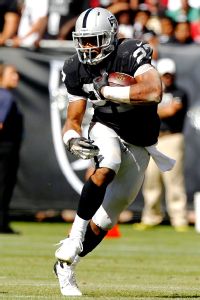 The bye week blues have begun in the NFL and if you didn't strategize in your draft, taking advantage of matchups during the bye weeks, you could be in for a long stretch of the season. Luckily, we're here to make sure you don't lose your fantasy dignity or pride (We can't guarantee that you won't lose in fantasy football… or life)
Rashad Jennings, RB, Raiders
Okay, Rashad Jennings is not anything special. Let's get that straight off the bat. He is a 3rd string RB on a team that is a perpetual loser. However, with Darren McFadden and Marcel Reece both nursing injuries, you have to start him, especially if your RB2 or preferred flex player has a bye this week. He doesn't have the explosiveness of a DMC but he will be the running workhorse for the Raiders against the Chargers, and with Terelle Pryor at the helm, you could expect him to catch an outlet pass or 2.

Danny Woodhead, RB, Chargers
Staying in that same game on Sunday, another RB2/3 who is getting hot is Danny Woodhead. He is getting 10+ touches in the run game and at least 5 passes thrown his way. While he won't bulldoze his way into the endzone (don't expect TDS) he can certainly get chunks of yards off screens and 2nd and short runs. He did catch 2 passes for TDs last week, but I expect that is a rare occurrence.
Falcons DST
Any time Geno Smith comes to town, you can expect turnovers to be handed out like candy on Halloween. The Falcons have a ball hawking secondary and a defensive line that can provide pressure, so you can be sure that your sweet tooth will be satisfied this Monday Night if you start the Falcons DST.
Marlon Brown, WR, Ravens
The Ravens look to get back on track after getting upset by the Bill, where Joe Flacco threw a Geno-esque 5 picks. The Dolphins looked like swiss cheese after Drew Brees was done with them. Expect the Ravens to pound the rock with the addition of new LT Eugene Monroe and set up the play action pass, which will lead to good opportunities for Marlon Brown, while Torrey Smith gets all the attention. Consider him a good WR3 or Flex bye week replacement.

Austin Pettis, WR, Rams
Another good flex bye week replacement in deeper leagues is Austin Pettis, who will likely reap the rewards of the Jacksonville Jaguars coming to town. While the Rams as a unit is not looking good, I expect Sam Bradford to get a nice confidence boost from playing the Jaguars. Expect him to find Pettis often in the slot, with the play of Chris Givens declining recently.